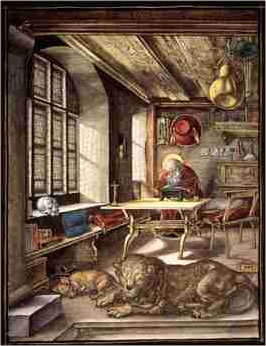 I'm not really that big a of online sharer anymore, I just post  silly pictures on Facebook.
Active site more or less from May 2003 to May 2011. Just around now because I like the name. Might return to posting if I have something interesting to say.
Site History…
Library Monk was started in May 2003. I chose the name Library Monk in part, because yes I have been known to dress as a monk on occasion. Ask anyone who in the summer 2002 Genre Fiction class at UT's School of Information Sciences. The reason I was dressed as a monk then was to talk about my favorite book, A Canticle for Leibowitz.
Canticle tells the story of a post nuclear war world. People have turned against science and learning and life has reverted to a medieval existence. And as they did in the Middle Ages, Roman Catholic monks preserve what scraps of knowledge remain. It's a very rich and complex work, as evidenced by this study guide.
The name Library Monk is a homage to that book and grateful acknowledgment of the fact that if not for those monks in the Middle Ages, libraries in Europe and the Americas might not exist. Western Civilization is built on the work of those monks.
In the acknowledgment to Canticle, Miller thanks, among others, Rev. Alvin Burggraff, C.S.P., a Paulist priest. John XXIII Catholic Center at UT is a Paulist parish, and thanks to Fr. Eric Andrews and Fr. Terry Ryan I officially became a Catholic there at Easter 2002. Tying back into the monk theme and further connecting me to Canticle , here's a picture of me standing next to Fr. Terry dressed as a monk.
Images…
The logo/mascot for the site is a woodcut of St. Jerome and his lions by Albrecht Dürer (1471 – 1533). This page uses a version of that woodcut that was colorized by Domenicus Rottenhammer around 1600.